Welcome to the El Camino Real Bicycle and Pedestrian Improvement Plan!
The Town of Colma received a grant from the Caltrans Sustainable Communities Program to improve safety and mobility for people who walk and bike along El Camino Real, and to increase access to public transportation. Currently, El Camino Real in Colma has many challenges, particularly for those walking and biking. To address this, we are developing a draft bicycle and pedestrian improvement plan. Improvements to the corridor will enhance safety, encourage the use of sustainable transportation, and provide better connectivity to BART stations and bus stops to improve overall quality of life.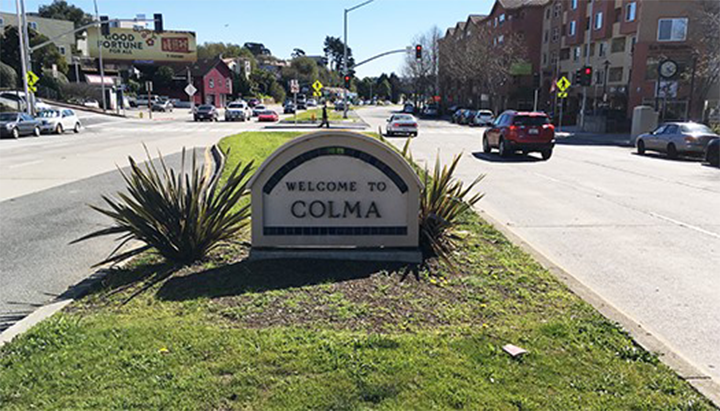 What's Happening Now?
We have selected a concept design based on community input and Caltrans feedback. Watch our video and view the design below. You can also see what people thought about the design concept by viewing this map that we hosted in October 2020.
Based on what we learned through the community engagement process and our existing conditions assessment, and our discussion with Caltrans, we developed a preferred alternative concept design for El Camino Real. This concept incorporates the opportunities identified for the corridor and helps Colma realize its vision for a safe and comfortable El Camino Real that is convenient for all users.
The concept design includes separated bikeways and continuous sidewalks throughout the corridor, as well as crosswalk enhancements at intersections and new pedestrian crossings. A lane reduction, or road diet, on Segment A (north of Mission Road from Albert M Teglia Boulevard to Mission Road) addresses concerns about speeding, while the number of travel lanes is maintained on Segment B (south of Mission Road from Mission Road to Arlington Drive) to provide continuity throughout the corridor with two lanes per direction. Parking is maintained where existing on the corridor to support local businesses.
You can see the input we heard from the community in October by viewing this map.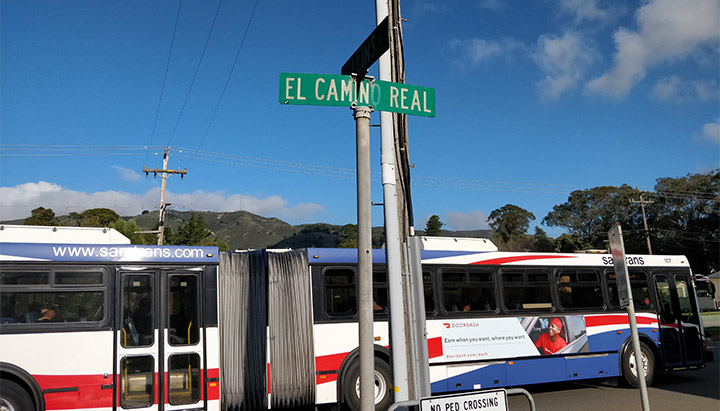 The El Camino Real Bicycle and Pedestrian Improvement Plan will identify walking and biking improvements on El Camino Real in Colma, from Daly City to South San Francisco. We want to enhance comfort, safety, access, and convenience for people walking and biking. Improving ways to walk and bike not only enhances your overall quality of life, but also helps us reach our sustainability goals!
Learn more about the plan
Learn more about the plan
Why do we need the plan?
Segments of El Camino Real in Colma are challenging to access by walking, biking, or public transit. El Camino Real has no bicycle facilities and, in some areas, there are no walkways or the walking paths are not accessible for all people. This lack of multimodal facilities presents a barrier for safe and efficient travel. This plan will assess ways for how the corridor can be improved to provide safe paths of travel for people who choose to walk or bike.
What's being considered in the plan?
The plan will identify ways for improving walking and biking in the Town of Colma and will consider safety, comfort, accessibility, and convenience. Traffic congestion and parking occupancy levels will also be considered.
What is the process for developing the plan?
The plan will be developed in partnership with Caltrans and local and regional stakeholders. We will also incorporate input from the community, which we will gather at different stages throughout the process. First, we reviewed the existing transportation conditions along the corridor and asked the community to identify their priorities for El Camino Real. Based on these findings, we developed three conceptual design alternatives for El Camino Real. In March 2020, we presented these concepts to the community, Caltrans, and City Council to identify a preferred design. After this, we started preparing a Bicycle and Pedestrian Improvement Plan which we will present to Caltrans and City Council for approval. Finally, we will work with Caltrans to identify potential funding sources for implementation.
How will the plan be used?
The plan will outline the infrastructure changes along El Camino Real that are needed to improve walking and biking along the corridor. The final plan will include a preliminary cost estimate, an implementation strategy, design concept, potential funding sources, partnerships and programs. We will use the plan for guidance on how and when recommendations will be implemented.
Summer 2019
Existing conditions evaluation
Data gathering & field observations
Identify existing facilities
Review plans, previous studies & planned improvements
Summer-Winter 2019
Community outreach phase 1
Understand community priorities
Identify constraints and opportunities
Project alternatives development
Spring-Summer 2020
Community outreach phase 2
Present three design alternatives
Identify preferred alternative
Community outreach phase 3
Present preferred alternative design concept
Request input on design elements
Fall 2020-Winter 2021
Complete preliminary design plan and report
Identify grant funding for design
Present to Caltrans and City Council for approval
In 2019, we reached out to the Colma community to understand your experience traveling on El Camino Real in Colma. We heard a lot of valuable information—thank you for partcipating! We asked for your input on project goals and improvements the community would like to see prioritized along El Camino Real in Colma.
We also asked you to share specific improvements you would like to see at certain locations, and barriers that prevent you from traveling by bike or on foot in this area. We reviewed those, along with recommendations from previous studies and existing transportation conditions.
Corridor Alternatives
In early 2020, we shared cross‐section alternatives that we were considering to improve travel on El Camino Real. There were alternatives for Segment A, from Albert M Teglia Boulevard to Mission Road, and Segment B, from Mission Road to Arlington Drive.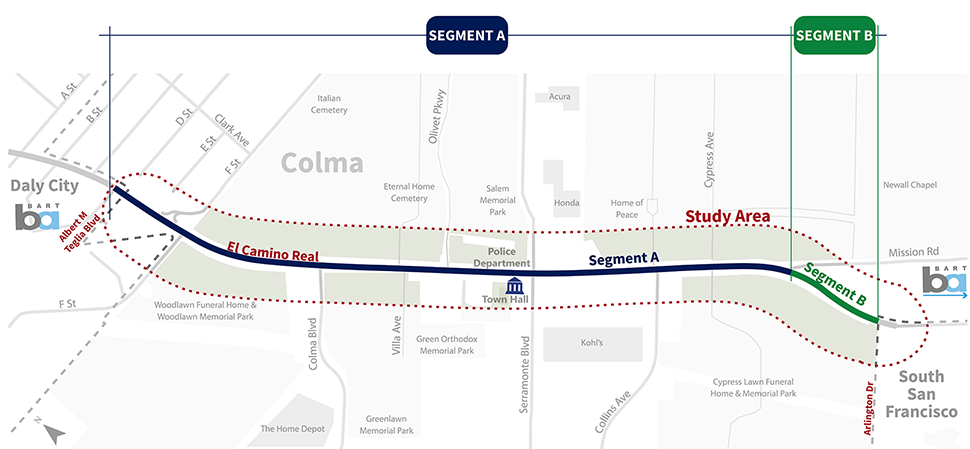 We learned that, for Segment A, the community highly preferred the alternative that removes a vehicle travel lane in each direction to provide space for a protected bike lane and sidewalk, separated from the car lanes by landscaping. For Segment B, the community showed equal preference for the alternatives with and without a road diet but agreed that bicycle and pedestrian facilities need to be added on this segment. Stakeholders strongly preferred the option to maintain the two existing travel lanes on Segment B, voicing concerns about traffic congestion and connectivity if a travel lane were removed in each direction. The section shows how these preferences became a project design.
The creation of the Colma El Camino Real Bicycle and Pedestrian Improvement Plan is an important first step in transforming the corridor. Additional steps will need to be taken before the vision can be fully realized, including conducting follow-on studies to support Caltrans approval and securing funding for construction. There are opportunities to continue the momentum of the project in the near-term as well, through the implementation of "quick-build" improvements, which have the added benefit of helping refine the designs before implementation of a full and permanent project. Some of our next steps include:
Confirming the cost of fully designing and constructing these improvements.
Identifying funding, which may be possible through a variety of regional, state, and federal sources.
Determining an implementation process through coordination with Caltrans.
Community outreach meetings and activities
Throughout this project, we've provided multiple in-person opportunities to provide feedback, including tabling at the Colma BART station and hosting community meetings uring phases 1 and 2 of outreach. We appreciate the community input we received at this events.
We are conducting additional community outreach virtually in September/October 2020 to get a feedback from the community on the design concept.
Project Documents and Related Efforts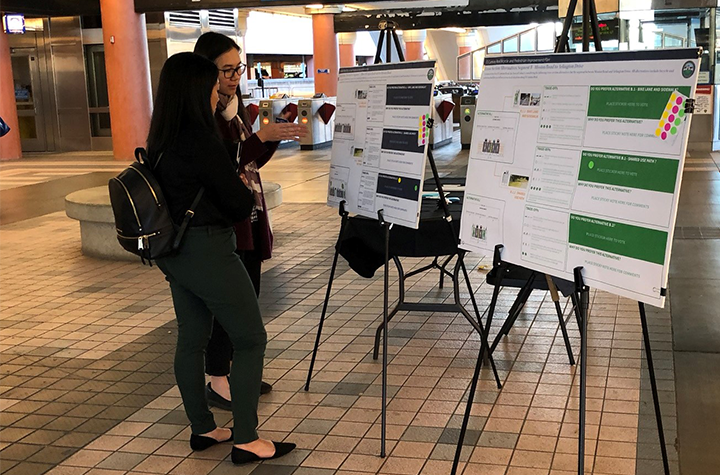 Project Documents and Related Efforts
Project documents
Related planning efforts
Send us a question or comment
Interested in learning more about the project?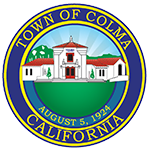 Follow us on social media
Share this site with others